Carol McClintock
Realtor® and CEO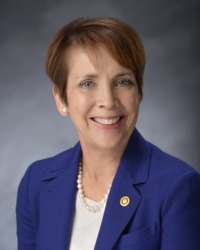 Carol has been in the real estate business for over 22 years. She led Team McClintock to record sales in 2016, selling more real estate than any other team in the history of our MLS.  She is continuously ranked among the top agents in the state of Indiana and among F.C. Tucker affiliates.
Her success stems from strong communication with all of her clients throughout the entire real estate transaction. She holds personal communication events throughout the year including hosting guests at the Web.com golf tournament, luncheons and a back to school party.
When you work with Carol, you can expect exceptional service and results. She goes above and beyond to ensure the needs and wants of her clients are met.  Here are a few items you can expect:
Market Analysis - It all starts with a comprehensive Market Analysis which pinpoints the value of the property. She gives suggestions on staging and improvements to be made prior to listing to help the home sell faster, for more money.
Advertising - Advertising is key. Carol will position your home in front of the right audience to make sure your home reaches more people and has the potential to find a a buyer, faster. Carol utilizes TV advertising as well as flooding the web with your listing on her own website, her brokerage website and a vast amount of third party real estate websites.
Communication - Carol feels that immediate showing reports plus updating clients on sales of similar properties is vital. Sellers will receive detailed reports informing them about the activity their home is getting on our website and its activity through digital advertising. Carol and her team implement a 5-point communications guarantee that offers their clients an unmatched communication commitment.
Carol's many achievements include:
- #1 Agent in Evansville Market - 2018
- Executive Club Member - 2018
- Presidents Club – Life Member
- Performance Award 2018: Most increased amount in sales production
- Most Buyers and Sellers Represented: Downtown Office
- Indiana Real Estate Commission – Member
She remains actively involved in numerous aspects of the community including the Evansville Museum, WNIN, United Way, Wesselman Nature Center, Parks Foundation, Mesker Park Zoo and many more. Living in Evansville for over 42 years, Carol strongly believes in devoting her time and giving back to the community that she calls home. Prior to real estate, Carol served as the Director of Parks and Recreation for the City of Evansville, was the Vanderburgh County Commissioner, and also spent time working at WNIN Public Television. Carol is married to Lloyd Winnecke – Mayor, City of Evansville.
Evansville Indiana
Featured Searches
Open Houses
Relocation Guide
Why List with Us?